JMA identified a tropical depression southwest of Minami Torishima on August 4 and began issuing advisories. On August 5, the system had sufficiently strengthened to be named Tropical Storm Maria. The name Maria was submitted by the United States and is a common Chamorro feminine name.
The JTWC designa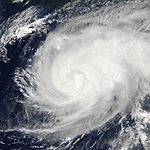 ted this system as a tropical depression later that day before upgrading it to a tropical storm on August 6, while the JMA upgraded it to a severe tropical storm at 6 a.m. UTC. Maria turned to the north, threatening Japan's mainland. JTWC briefly upgraded Maria to a typhoon on August 7, but issued its final advisory two days later as it started to turn extratropical.
In their post season analyses, the JMA upgraded the storm to a 80 mph (130 km/h) typhoon, while the JTWC downgraded it to a 70 mph (110 km/h) tropical storm.